If Nikolai and his game artist Alina could work nonstop and without sleep, the two of them would have made their first TutoTOONS game in a week! Read about the creation of Treehouse Club game and learn how Nikolai turned his childhood hobbies into a game that shows kids how to make their own toys.
TutoTOONS: Hi Nikolai! Traditionally, first we want to know everything about you. What do you do, what are your interests and hobbies?

Nikolai: Hello all readers! 🙂 My name is Nikolai, I was born in Germany and lived all my life in Ukraine. My parents are very creative people: my mother likes to write poetry, and my father has the talent of an inventor, which I inherited from him.
Since childhood, I loved to invent all sorts of interesting things, both useful and not so much. 🙂 I expressed this passion of mine by creating games. In school, I used to make various board games, then played them with friends. Most of those board games were Monopoly genre games.
At the same time, I gradually started to program, play computer games and read a lot, mostly fiction. Books often occupied all my spare time. They gave me an infinite source of creativity and broadened my horizon of imagination. Computer games and programming built up my dream to become a game developer. But at that time, I didn't expect that I will have this chance. Now this opportunity exists, thanks to TutoTOONS. 🙂
In my free time, I like to dream about various things. These moments, I often come up with interesting ideas, some of which I write down so I could bring them to life in the future. Likewise, I love playing and making games. For me, game creation is a very exciting process with all its stages.
I also love listening to music. Once, as a hobby, I wanted to learn to play the guitar. I like instrumental music and I wanted to try it myself. Now I have plans to learn how to create soundtracks for games, which is also a very creative and exciting process. So it's possible that I will reveal my musical skills in my future games. 🙂
That would be wonderful! Now tell us, where did you find out about TutoTOONS? Do you have game creation experience from before?
Yes, I have experience in creating games. I had a chance to realize myself as a game developer in the gaming industry but even if I didn't, I think I'd still search for a way to do it. Cooperation with TutoTOONS helped me a lot in this.
While developing games, I realized that you can make a beautiful and interesting game only if you're fully involved in the creation process, and when you have an opportunity to come up with the plot and implement it without much effort. TutoTOONS gave this opportunity for us, my talented artist Alina and me. Both of us had a dream to work on game projects for children. And once I received an invitation on LinkedIn from Iurii, manager in TutoTOONS, who brought me to this company. 🙂
Alina's artwork:
Iurii explained everything about TutoTOONS and made a great impression, I almost had no questions. I understood that I will be free to choose game topic and everything related to its creation. Possibility to work with my own artist made it even more interesting.
What made you work with TutoTOONS from the beginning – what was the most beneficial/attractive thing about it?
Freedom to choose what game I want to create, opportunity to work with my personal artist, big player community and the percentage of game sales. The most attractive thing is freedom in work, I didn't have it in my previous works.
Oh, and game creation speed too! With TutoTOONS editor, it's a very simple process. Much simpler than programming everything yourself.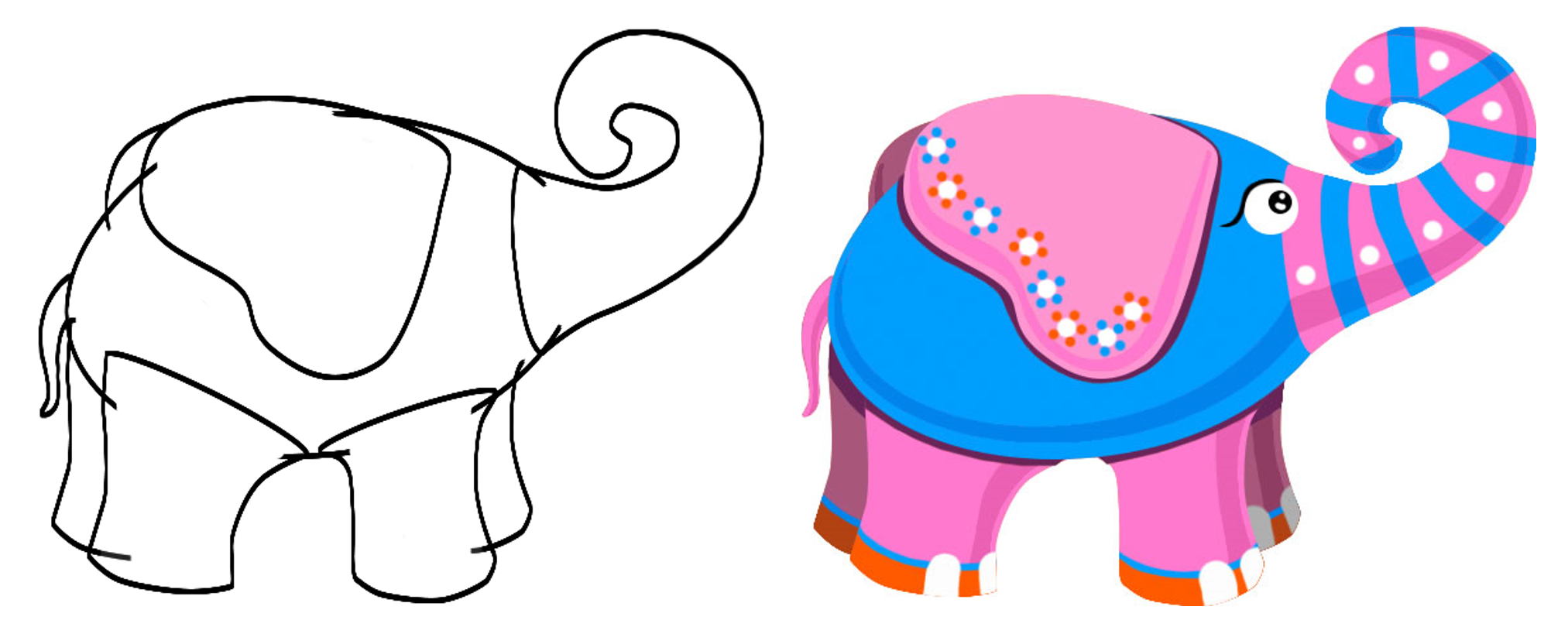 What's the story behind your game, Treehouse Club? Tell us more about your game idea and how you came up with it.
I think many of us, as a child, loved to climb trees and build a tent or a small house. 🙂 The idea of the Treehouse Club game is associated with it. Tree houses used to look very funny, I remember it from childhood.
As I mentioned, I like inventing things. When I was a kid, I loved to construct. I enjoyed using the tools to make different parts for any new toy. I think these two things helped me decide how the game will look.
In my imagination, I saw a spreading tree with 3 or 4 houses, where each child could make his or her favorite toys. I asked Alina to sketch this complex picture, and I was pleasantly surprised when the result exceeded my expectations. Tree and houses looked very bright and beautiful. The entire game eventually was filled with different bright colors. I think players will agree with me.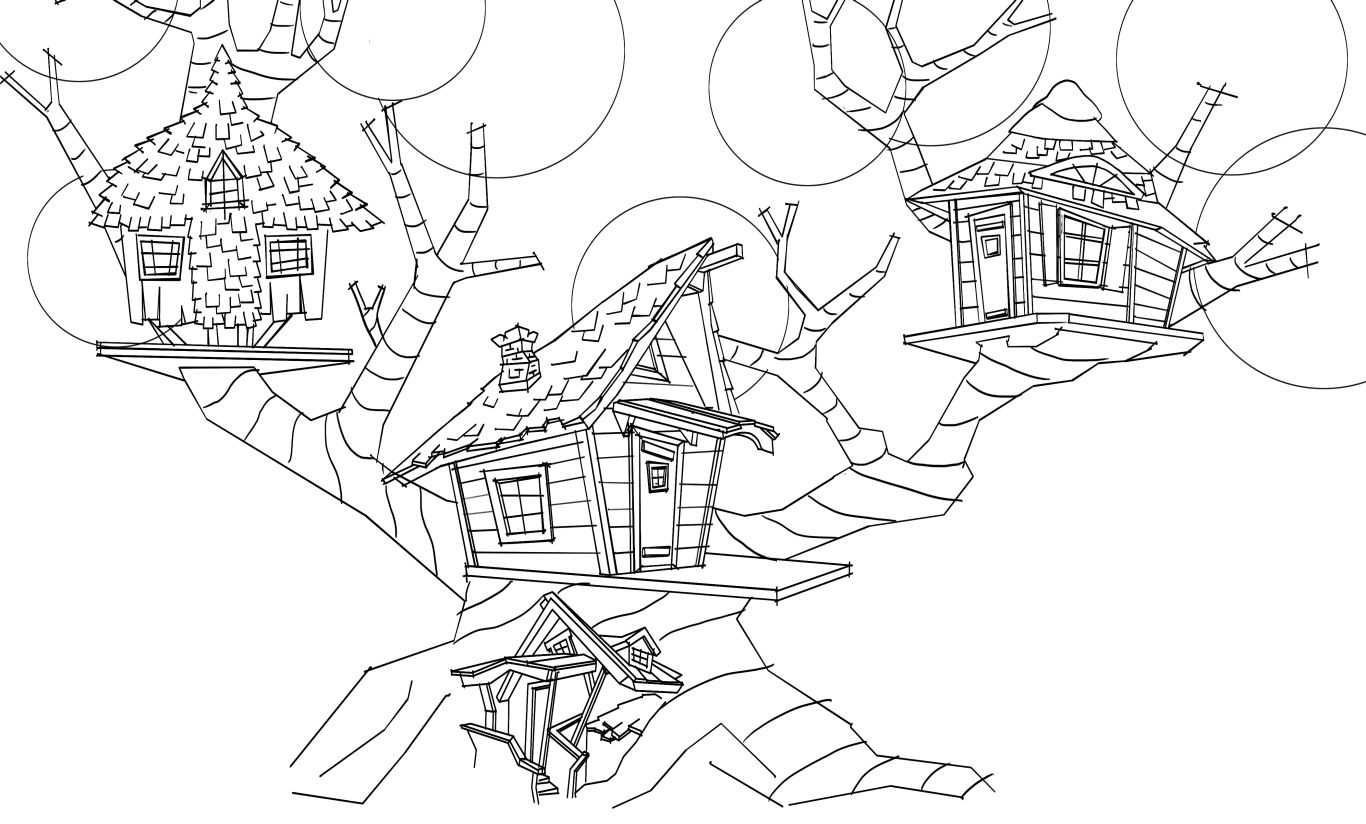 Alina: I love games for kids, and I immediately liked the idea of the Treehouse Club. I also have experience in working on game projects, other genres though. It was very interesting to work in this style and especially to draw for kids audience. For me, it's important that this game helps kids learn new things, develop various skills in a playful way, and gives the opportunity to create their favorite toys. I tried to make a bright and colorful world that will allow your child to dive into his/her own little tale, where he or she acts as a "jack of all trades". 🙂
Looks like Alina knows exactly where to find inspiration for Treehouse Club game graphics 🙂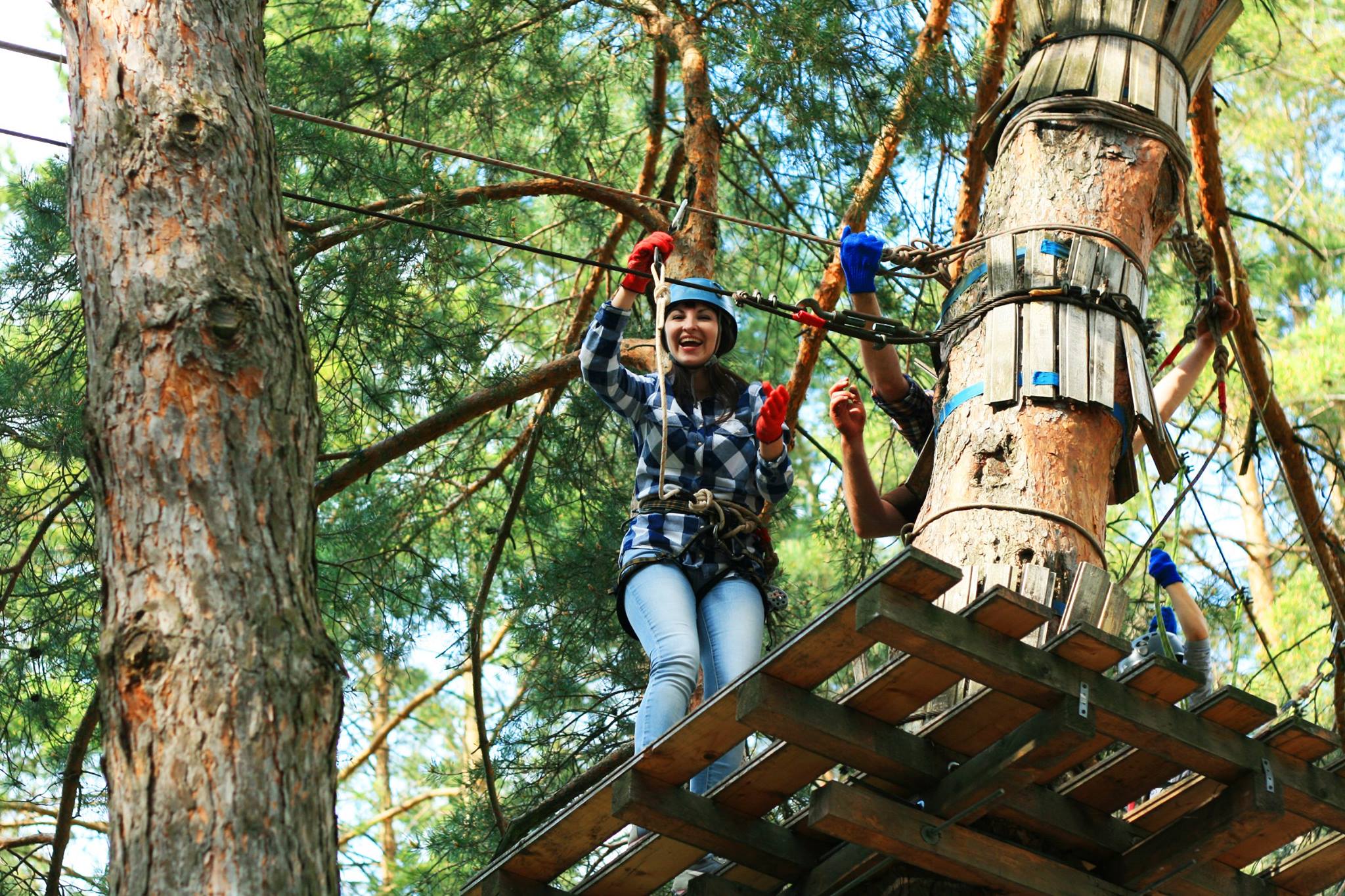 Your game is an amazing example of how much you can do once you learn the possibilities of TutoTOONS. You used so many different features, animations and visual effects, even for the smallest details. Treehouse Club is full of activities and looks so live! How many hours did it take to make the game from start to finish?
Nikolai: The game really is very lively and colorful. Major part of it is the
merit of the artist, and all the effects that I used helped to create a
living little fairy tale from the game. We worked in the evenings and on weekends. In my calculations, the two of us spent 350 hours, in total.
So game creation from scratch to final product would take 1 week from each, graphic designer and artist, if working nonstop and without sleep. 🙂 How did you start making your game and what steps did you take to reach the final result?
In general, our game is the result of a great teamwork. It's very good when game designer listens to the artist, and vice versa. 🙂
What regards the effects inside the game, I immediately imagined how each scene should look like and what animation I want to use to bring it to life.
I tried to take a maximum from TutoTOONS game editor. For a couple of days, I studied other similar games and selected effects that I could use in our game. I also tried to work on the test skit where I experimented with animations.
TutoTOONS is a simple editor but it allows you to liven up a variety of effects in game scenes. You only need to study them a bit and find the perfect ones. Try, experiment, and you'll certainly succeed. 🙂
In your opinion, what are the most important things when you're creating your own game? Any tips for other game creators?
The most important thing in creation is to be thrilled by games. Passion helps to follow the ultimate goal. It makes you think about every detail, highlight the strengths and weaknesses of the project, feel connected with the player. Ultimately, passion allows you to make a full game form the idea.
The developer also has to feel if the game will be interesting: not too difficult for the player, or the opposite, not too easy and boring. You must choose a balance that will let all players enjoy the game. This knowledge comes with experience but I also advise to use tips from other developers, especially those with more experience. Guys from TutoTOONS helped me a lot, thanks to them for it. 🙂
What are your future plans with TutoTOONS?
At the moment, I'm doing one more interesting game that will hopefully also get a lot of positive feedback from our players, and I also have a great desire to continue the Treehouse Club game series.
Thank you for answering our questions and sharing your story with our readers! Anything you'd like to add?

I want to thank all of our readers and players who play our games, we will try to make them even more colorful and interesting!
---
Get ready to make your own toys because Treehouse Club now is available on the biggest app stores!
App Store: https://itunes.apple.com/app/id990582200

Google Play: https://play.google.com/store/apps/details?id=air.com.tutotoons.app.workshoponthetree&hl=en

Amazon: http://www.amazon.com/dp/B00WUDM3XW/