May 7th and 8th were busy days. We went to LOGIN 2015, the largest tech conference in the Baltics, showcased TutoTOONS at the Startup Fair together with 64 other startups, and competed in the Startup Pitch Challenge. Here are some of the best moments from the event!
LOGIN Startup Fair
As you may know from our previous post, we had a booth in the exhibition area of Startup Fair where we could present TutoTOONS for all visitors both event days.
LOGIN Startup Fair view from above:
Llama character from our new game Animal Hair Salon and the updated Sweet Baby Girl Emma helped us attract more people to our stand.
However, the real center of attention was stickers with our game characters. We handed out almost all of them in just 2 days of Startup Fair!
Speakers & Presentations
In addition to startup exhibition, we had a chance to listen to some very interesting presentations.
Vaidas Bagonas from RedLynx Ubisoft shared his experience in creating concept art for Trials Fusion and Trials Frontier games. Amazing art and beautiful presentation!
By the way, Vaidas revealed us that he likes TutoTOONS!
We also went to see Adas Griškevičius, co-founder of Pepi Play game studio. He shared the story behind Pepi Bath, a popular game helping kids to learn about personal hygiene in a fun way.
Startup Pitch Challenge
The most exciting part of the whole event was probably the Startup Pitch Challenge. Practicing the pitch on the way to event is almost TutoTOONS tradition.
In the semi-final on Thursday, 33 teams pitched their startups on stage to investors from all over the world. Only 3 minutes to present your business and 3 more minutes for questions.
9 finalists were selected: Pipelinepharma, CGTrader, BranchTrack, TutoTOONS, Hello Hungry, AtoID, Plate Culture, Pinfishing and Sorry as s Service.
Even though there were some really strong competitors in the final and despite the fact that slides didn't work properly at the beginning of our final pitch, TutoTOONS took the 3# place and won
€600 cash prize (powered by Triniti)!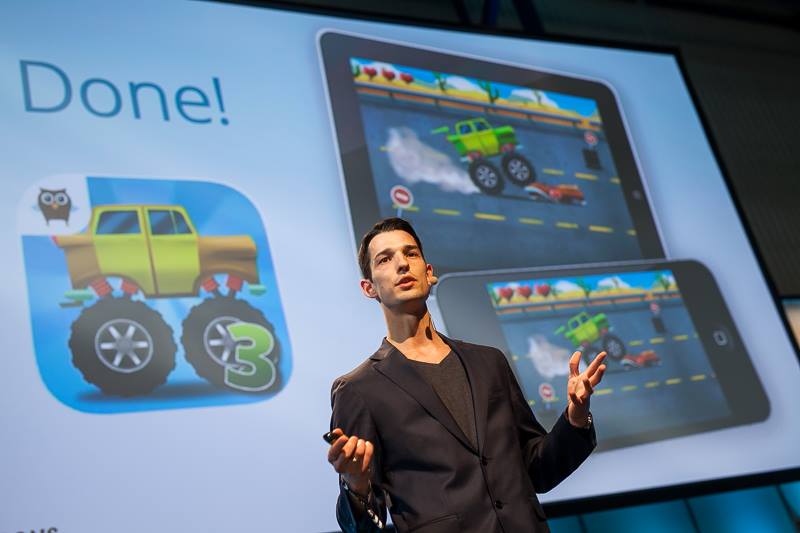 We were the only gaming startup in the final so you may think about us as the 1# gaming startup! 🙂
Special thanks from our team goes to all amazing people that we met during the event. We were super happy to hear that you like TutoTOONS and know that you support our startup!
Photos: Startup Lithuania, TutoTOONS, 2015