We are beyond thrilled to announce our first ever DRAWING CONTEST FOR KIDS! Draw your dream Smolsie and get a chance to win special prizes with these adorable pet collectibles! Please read all the information below, including Terms and Conditions.
The contest is over! Check out the results and kids' amazing creations here.
Ask your parents for help!
Ask your parent or legal guardian to read the Contest Terms and Conditions and get their permission to participate. Please note that to enter the Contest, you'll have to mail your drawing to TutoTOONS office in Lithuania. So make sure your parent or legal guardian is fine with paying a postage fee. You will also have to include a filled out and signed Application Form.
Please contact us via email ([email protected]) if you have any questions regarding the Contest!
Who can participate?
Any resident of the United States of America, all European Union countries (Austria, Belgium, Bulgaria, Croatia, Cyprus, Czech Republic, Denmark, Estonia, Finland, France, Germany, Greece, Hungary, Ireland, Italy, Latvia, Lithuania, Luxembourg, Malta, Netherlands, Poland, Portugal, Romania, Slovakia, Slovenia, Spain, Sweden, United Kingdom), Norway, Iceland or Luxembourg under the age of 13 at the time of submitting the drawing.
What are the prizes?
We will choose five winners who will get special Smolsies packages that include a plush toy, stickers and button pins.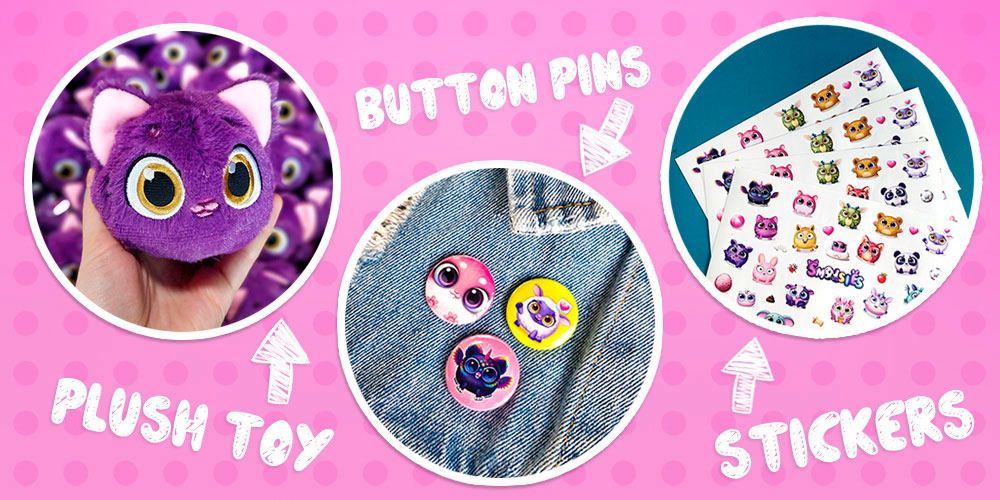 How to enter?
• Make sure you have your parents' permission to participate in the Contest.
• Draw your dream Smolsie. The drawing should be creative, original, cute, made according to the task and with no help from adults.
• Ask your parent to fill out and sign the Form.
• Mail your drawing and Form to TutoTOONS, Studentu St 3A-12, LT-50232 Kaunas, Lithuania.
Drawings sent without the Form will not be accepted.
Important dates
• The Contest starts on September 6, 2019
• The Contest ends on October 6, 2019 23:59 GMT 
• Winners will be announced by November 20, 2019
Terms and Conditions
TutoTOONS Ltd. ("we", "us", "our") is holding and sponsoring a drawing contest for kids My Dream Smolsie (the "Contest"). Contest is based on TutoTOONS app Smolsies that is available on

Google Play

,

App Store

and

Amazon Appstore

.

To participate in the Contest

, draw your dream Smolsie. Drawing (the "Artwork") must be original and created with no help from adults.

How to submit the Artwork: Ask your parents or legal guardians to read, download, print, fill out and sign the application form (the "Form"). Mail the Artwork together with the signed Form to this address: TutoTOONS, Studentu St 3A-12, LT-50232 Kaunas, Lithuania. Participant covers all postage costs, which should be approximately 3 Eur, depending on the country of residence. Artworks submitted without the Form, with incorrectly filled out Form, with unsigned Form, and/or submitted by email or other digital platform are not accepted.
Who may participate in the Contest:

Any resident of the United States of America, all European Union countries (including the UK), Norway, Iceland and Luxembourg under the age of 13 at the time of submitting (mailing) the Artwork

The Contest runs from

September 5 to October 6, 2019

. Last day to mail the Artwork is

October 6, 2019 23:59 GMT.

We will allow some time to receive all Artworks and start reviewing them from November 4, 2019.

Five winners will be selected by a panel of judges (TutoTOONS artists). Each drawing will be awarded with 1 to 5 points from each judge. 5 (five) drawing with the highest scores will be the winners

. Winners will be announced on TutoTOONS blog, Facebook, Twitter, Instagram, YouTube and PopJam channels by November 20, 2019. We will contact the winners via email

prior to public announcement

regarding delivery of the prize, and we will cover prize delivery costs.

In case a winner does not reply in 3 (three) calendar days, we will contact the creator of the drawing with the next best score.

Winner selection criteria: accordance to the Contest task, creativity, originality and cuteness.

Prizes:

Contest winners will be awarded with special Smolsies prizes that include a plush toy, stickers and button pins.

TutoTOONS is not responsible for Artwork that is lost, delayed, misdirected or incomplete or cannot be delivered for any technical reason.

TutoTOONS shall not be liable for any interruption to the Contest due to force out of TutoTOONS control.

Data protection: TutoTOONS will collect information about participant's name, last name, age and country, as well as information about contesting child's parent's or legal guardian's name, last name and e-mail address. This information is collected through the Form that is submitted together with the Artwork. If participant wins the Contest, we will email participant's parent or legal guardian to collect an address for prize delivery. Personal data shall be stored accordingly with terms set in data protection laws.
Data protection: TutoTOONS may publish contestants' Artworks on TutoTOONS blog, Facebook, Twitter, Instagram, YouTube and PopJam channels. If we receive a parental or legal guardian consent for using participating child's data for marketing purposes (see the Form), we may publish Artworks with reference to a child's authorship (child's name, last name, age and country). If parental or legal guardian consent for marketing purposes is not received, we will not publicly indicate the author of published Artwork, yet contestant will still be participating for the prize.
Data protection:

We may provide data collected (parent or legal guardian's name, last name, address) to courier delivery service providers to deliver prizes to the winners.

Data protection:

For more information regarding data protection issues, please read TutoTOONS

Privacy Policy

.

Copyright:

Author's economic rights (reproduction, publication, transformation, distribution, exhibition, broadcasting, rebroadcasting, transmission, retransmission and communication to the public in any other way) to Artwork that are made by participants for the Contest will be transferred to TutoTOONS.

Copyright: The moment TutoTOONS becomes the owner of economic author's rights is the moment contestant's Artwork and Form is received at TutoTOONS office at Studentu St 3A-12, LT-50232, Kaunas, Lithuania. TutoTOONS shall be the owner of the economic author's rights for the maximum period according to applicable copyright laws.
Copyright:

Contestants will remain owners of author's moral rights.