Extinct and not like any other living being, dinosaurs are the imagination engines for kids, as explained by Jack Horner, an American paleontologist and consultant for Jurassic Park films. New game "Life of My Little Dinos" by artist and teacher Oksana Ryabinina is here to help kids discover the fascinating dinosaur world!
Sneak Peek at the Game

Life of My Little Dinos features 10 educational mini games that show kids and toddlers the fun life of four baby dinosaurs. Children will have a chance to explore and play in different locations like forest, mountains, desert, emerald cave and river. Arcade mini games (flying, running and fishing) will develop children motor skills, and creative activities (cooking, drawing and dress up) will reveal kids artistic talents.
TutoTOONS: Hi Oksana! Tell us more about yourself.
Oksana: Hi, I'm a 2D artist from the sunny city of Odessa (Ukraine). I love to draw and cannot imagine my life without creativity. By education I am an artist and a teacher. Creating cognitive and educational games – for me, this is an excellent implementation of my specialty! I worked at school for 3 years, teaching fine arts. When children play, they learn and remember information much better than listening to a story.
Life of My Little Dinos is a creation of your own or did you have someone to help you with the game?
I worked with my husband Gregory. The concept of the game belongs to him, he developed GDD, created character animations and built the game. We also voiced our cute dinos. Recording sound effects and making voice overs by ourselves was really fun. The most difficult part of the work was taken by my husband and I was able to focus on creating beautiful graphics of the game.
What made you work with TutoTOONS from the beginning?
I like working with TutoTOONS. For me as an artist, it gives an opportunity to discover the full potential of the project. Development of [app] icons and promotional products, locations and characters – such diverse tasks make me grow and develop professionally.
Tell us more about your dinosaur game.
The game Life of My Little Dinos is a world of fun adventures with dinosaurs. It helps kids improve their concentration and attention skills, develops logical thinking and memory, and fosters their creativity.
The game has 4 main characters – little dinosaurs that need help. Kids will have to collect food and make fruit salad with juice, go fishing in the river, draw pictures with colored chalk on a rock, solve puzzles, clean up and decorate the emerald cave, create a dinosaur nest, run a marathon, fly home, and dress up dinosaurs how they like.
WOW, that's a lot of activities. How long did it take to make this game?
We worked 2.5 months. As a result, we have an excellent game with 10 wonderful mini-games.
It's not the first game that you made with TutoTOONS. What was different this time?
A new game, a new world of adventures and characters. I really liked creating contrasting landscapes such as the forest, mountains, and desert. Creating the game was a lot easier. Now we knew all the details about the creation process and this allowed us to focus on the quality of the game.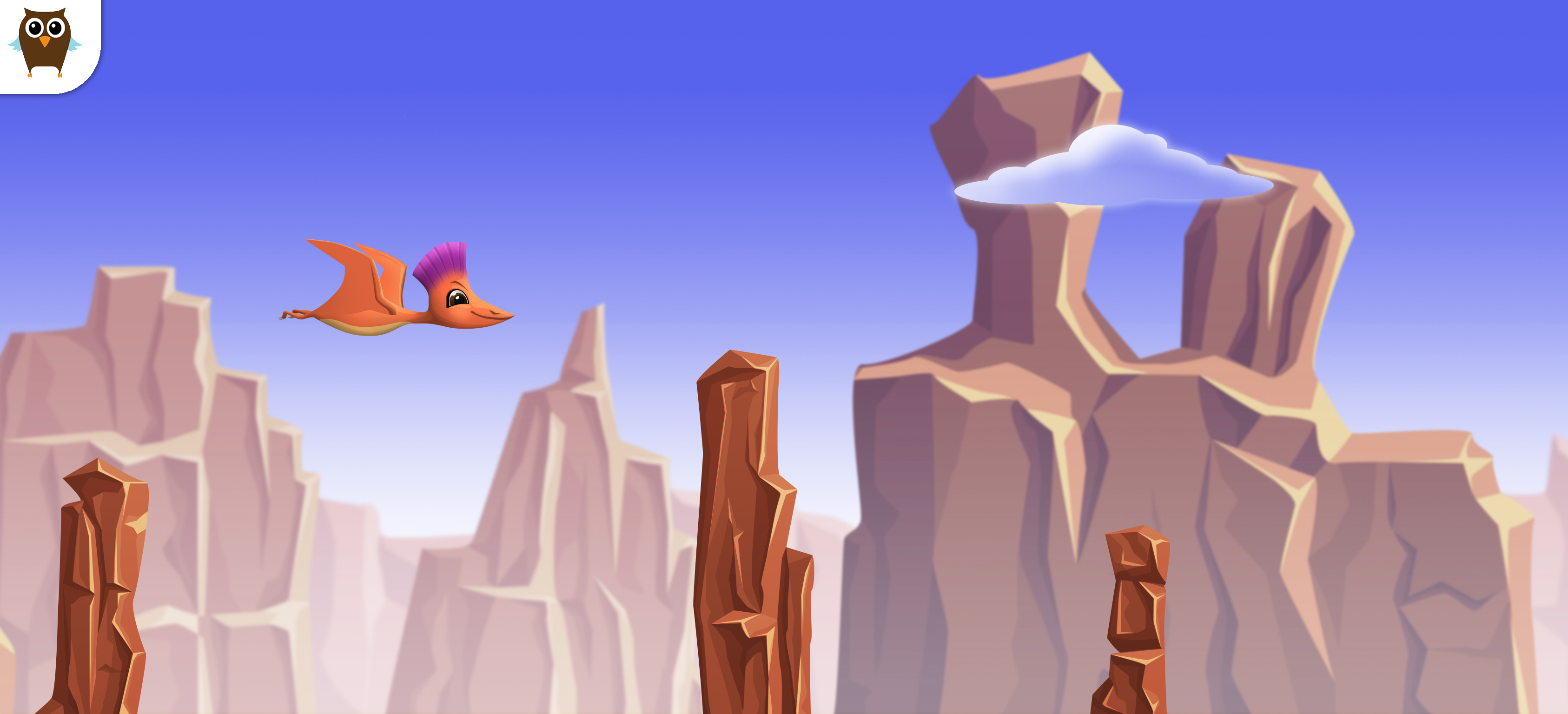 What do you think is the most important thing in game creation? Share a few tips for game creators.

First, think carefully about the plot and characters of the game – they should be attractive and interesting for the player. Next, it is necessary to choose the right style for graphics. Use a variety of bright colors.
The most challenging step you had to take when you were creating Life of My Little Dinos.
In game development, there are many challenges. It is worth doing a bit of a break from work, get coffee, and then they are quickly resolved. Developing the main screen takes most of the time because you have to show the diversity of the game and its atmosphere.
And the difficulty, I would highlight the step of creating icons for the game. Needs a whole science! It should be as simple as possible and maximum attractive. A good icon is a 70% success of the game.
If you could define TutoTOONS in one sentence…
This is a great system for creating games!
What are your future plans with TutoTOONS?
We have many ideas for games, and my husband and I are now actively discussing them. Among them, there is an idea to continue making games with dinosaurs. We plan to create funny and good children's games with TutoTOONS.
Any final thoughts?
Creating games is a fascinating and interesting work. TutoTOONS has established an excellent system, where everyone can try one's hand at game creation. Try it and you will definitely get it!
Thank you for a wonderful interview!
---
Prepare yourself for some epic dinosaur adventures and get the Life of My Little Dinos from your app store now!
App Store: https://itunes.apple.com/app/id1032727326

Google Play: https://play.google.com/store/apps/details?id=air.com.tutotoons.app.lifeofmylittledinos.free&hl=en

Amazon: http://www.amazon.com/dp/B0148PQB3C/
Follow dinosaur adventures here:

Blog: https://ryabinina.wordpress.com/category/life-of-my-little-dinos-4/

Facebook: https://www.facebook.com/groups/lifeofdinos/

Twitter: https://twitter.com/Ryabinina_O

G+: https://plus.google.com/u/0/108815557524514000249/posts