Last week we had a great event – GameDev Meetup #10! Here game developers shared their thoughts, ideas and projects they are currently working on.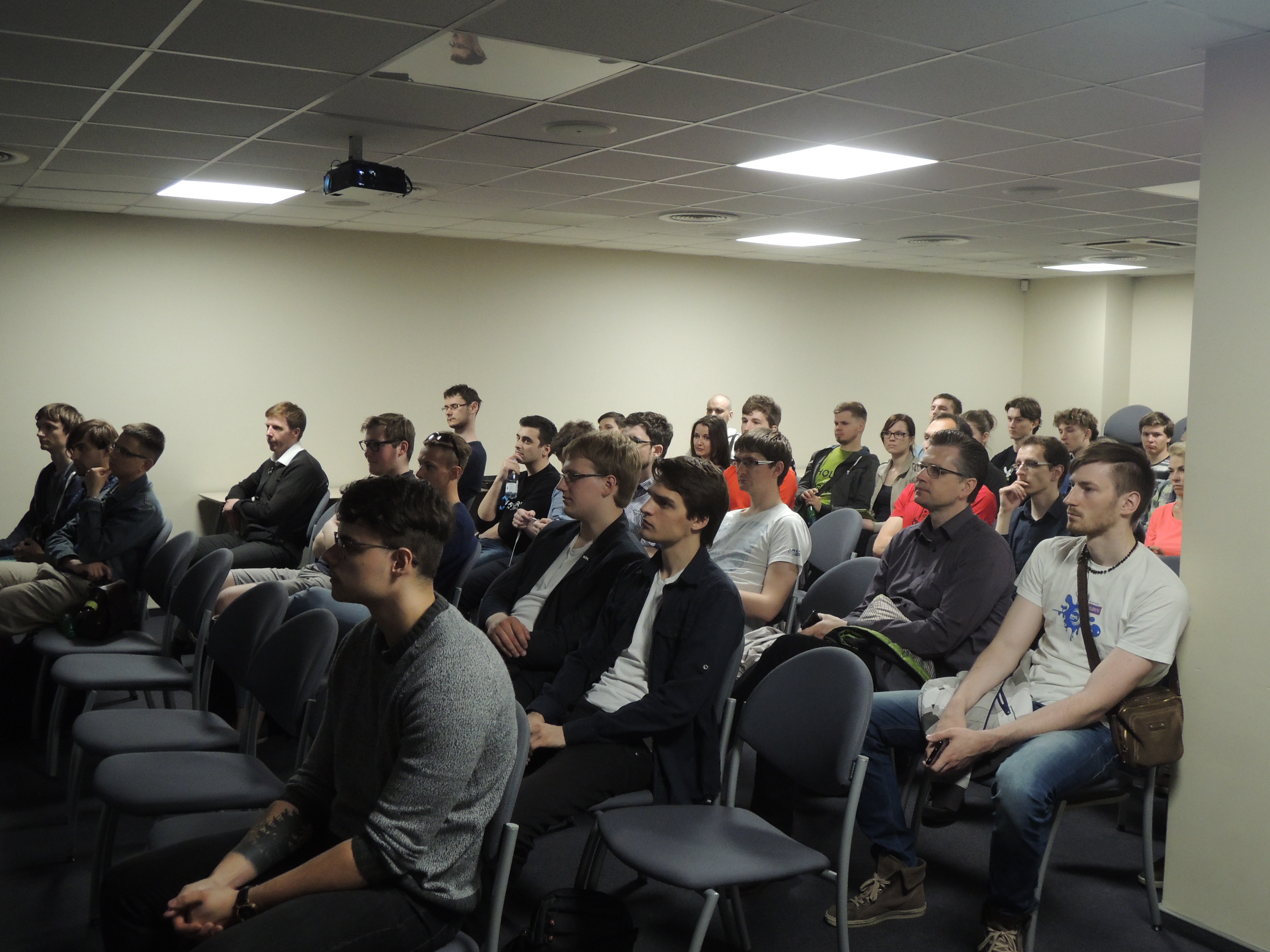 During the event, 4 main speakers were not only presenting their success stories but more importantly – talking about their experience in game publishing and self-publishing, a very risky business with no guarantees that your long time developed game will succeed.
TutoTOONS co-founder and CEO Mantas Kavaliauskas shared what we learned after publishing 100 mobile games for kids in 1 year. He pointed out his insights about best TutoTOONS games performance in App Store, Google Play and Amazon.
Jonas Abromaitis, CEO at Tiny Lab Productions, presented Orborun game publishing experience on Steam platform, the comeback of Nebula44, online strategy game, and the unexpected success of Fun Kid Racing, car racing game for kids.
Indie game developer Svajūnas Žemaitis talked about the creation of Garbage Day (which took him 6 years of work from scratch!) and presented his phenomenal success story of getting the Garbage Day green-lit by the Steam community.
And finally, one of the youngest Lithuanian game developers and Mad Studio founder Laimonas Mileška shared his game development and publishing experience in ROBLOX platform. Even Business Insider knows his success story!
Laimonas Mileška (Mad Studio) says that cooperation with other game developers can help you to improve your performance in game industry:
Game developers from Lithuania are so creative and friendly. They easily share their ideas, experiences, insights and discoveries in gaming industry. If you have connections with Lithuanian game developers, you can always contact them directly. They will help you or at least will find someone who can.
According to indie gamedev Svajūnas Žemaitis, successful game development strongly depends on sharing your experience and cooperating with other game developers. He believes that everyone can create games on their own:
Web is full of resources with useful information about game development. The best way to learn how to create a game is simply… create one. You can only learn through actual game creation process. The most important thing is to choose your favorite game genre or to think up your favorite game type, which will be your starting point.
Jonas Abromaitis (Tiny Lab Productions) says game developer meetings like this one are very useful and interesting:
First, it's good to hear what other game developers are currently doing and how everything is going on for them. Second, it's great to share your own experience. Who else you could boast about your success to if not for your colleagues!


I am happy that every time more and more people are coming to these events. I believe that in the future when Lithuanian gaming industry will have a bigger community, we will be able to invite our colleagues from countries like Finland or Estonia. Game developers in these countries have really great experience and this can be a top place where
you could learn from the best.
Mantas Kavaliauskas (TutoTOONS)promised that there will be more and even bigger events than GameDev Meetup. According
to him, meetups are very important for game developers as they improve your knowledge about gaming industry and reduce competition among Lithuanian gamedev studios.
Lithuania is a very small country. Game developers living and creating games here should not compete with each other but help each other instead. Only this way, by working together, we can compete in the global gaming market with the largest game development companies.
---
TutoTOONS team has a HUGE thank you to Lithuanian Game Developers Association, talented speakers and woderful participants for making this event happen!
Let's gather even a bigger crowd next time!