It's been a while since we last posted a story from TutoTOONS game creators. Following up our game artist interviews, we invite you to meet Alessandro Bagatin from Milano, a designer and author of 'Baby Dragon Tamer'!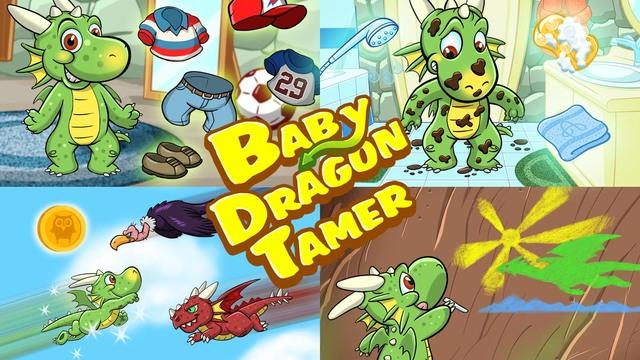 About the Game
Baby Dragon Tamer is a virtual pet type of game with 8 activities for kids and toddlers. After helping baby dragon Aver hatch from the egg, children will have to take care of their new pocket friend: cook and feed, bath, dress up, clean up, exercise flying over the canyon, draw in the cave, and more!
TutoTOONS: Hi, Alessandro! Tell us a little about yourself.
Alessandro: Hi! I'm a designer and I studied comics at the School of Comics in Milan. I finished my studies in 1991 and worked as a freelance illustrator.
In 1995, I had a very formative experience in a small animation studio, and then in 1997, I've worked at Animation Band on a few of TV series. I also did some character design, animation and modeling works for a few video game production studios.
In these days, I'm going to start at a company that develops motor racing video games. I like movies and TV series, I love to play and watch football (soccer). My hobby is about football too – I play old, historical game Subbuteo and participate in tournaments. I am a very good player. 🙂
Tell us more about your previous game development experience.
I had some projects but only one was a game for children, an experimental project, similar to TutoTOONS. Baby Dragon Tamer is my first game with TutoTOONS.
What was the most fun part of making Baby Dragon Tamer?
The fun part of this project was participating in a community and exchanging
ideas and tips with people from various places in the world.
And what was the most challenging?
In the final part of the project, it took a lot of time to produce marketing materials.
What was the most important thing for you when you were creating this game?
In my case, I appreciated the support of my team leader Robert Menegus from S. Francisco, he was very sympathetic.
What do you think kids can learn from Baby Dragon Tamer?
In this game, I think that children can learn to rearrange their room and clean their teeth. 🙂
Are you planning to make more games with TutoTOONS?
It depends on my new job! I'm thinking about a game… But at this moment, I don't have enough time, maybe I can draw a storyboard… We will see.
Describe TutoTOONS in 1 sentence.
Interesting experience.
Thank you!
---
If you have kids around who love dragons and dinosaurs, surprise them with Baby Dragon Tamer game!
Google Play: https://play.google.com/store/apps/details?id=air.com.tutotoons.app.babydragontamer.free

App Store: https://itunes.apple.com/app/id1059667380

Amazon Appstore for Android: http://www.amazon.com/dp/B0183LIV3A/